Bingo Guide to History and Basics
Our Bingo Guide will help you understand the history, basics and types of this popular game.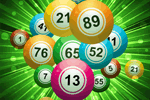 Bingo was started way back in 1530 in Italy, and it was one of the most popular games played then in school and church halls and its popularity has only increased since then. With the event of online games now being as popular as what they are, online bingo halls are absolutely inundated by bingo players all scampering to play their favorite games.
What makes bingo so popular? It is not only a fun game to play, it also has a low buy-in card rate and it normally offers prizes to the winners that are just outstanding. Online it is also an incredibly social game as here people from around the world chat in the chat rooms or chat while the bingo games are being played.
This is made possible as most online bingo halls offer an automatic daubing option. This means that the online bingo hall will automatically mark you bingo card should one of your numbers come up, and while the game is being played, you will be chatting with all your fellow players who are referred to as roomies.
There is also a bingo lingo. This makes chatting quick and easy and in no time will you be able to pick this up as it is logical and commonsensical. Chat games are also encouraged as here you will not only earn yourself extra credits that can be used to purchase your bingo cards, but there are also really worthwhile prizes that can also be won.
There are two different types of bingo games that are played the most. The one is the original bingo game which is referred to as 75 ball bingo and the other is 90 ball bingo. These two games offer you two different types of bingo cards, but the game itself is played in exactly the same way except 75 ball bingo offers one prize for the winner where 90 ball bingo offers 3 different prizes. The first and second of for the two players who either get a competed vertical or horizontal line and the third, which is also the main prize, will go to the person who has a full house.
Bingo came into the gaming world by storm, and has certainly not lost its appeal, in fact it has gained so much popularity, that this game is one of the most played games in land based or online casinos.