The Windmill Casino and Entertainment Centre – Bloemfontein, Free State
Bloemfontein is the capital of the Orange Free State. It is hot and it is arid but it is also known as the city of flowers as there are way over 4 000 roses bushes planted in this beautiful city. But that is not all that this city is known for as this city also boast the fantastic Windmill Casino and Entertainment Centre that brings fun, entertainment and excitement to all its visitors.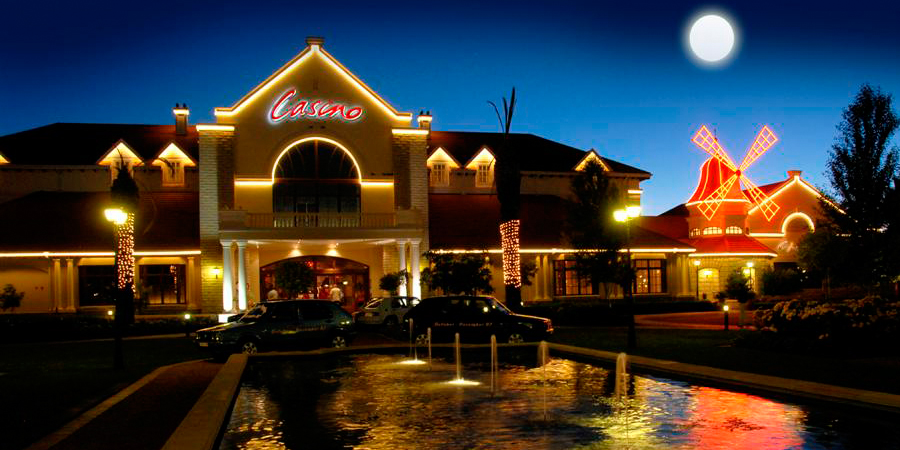 The Casino offers you 343 of the latest slots machines that denominations range from 5c to R25.00 Table games include games such as Blackjack, American Roulette and easy Poker which you will find in amongst the 21 tables on offer here.
The Salon Privé here offers you opulence, luxury and games where higher betting limits are accepted. Right through this casino, including the Salon Privé, you will find smoking and non-smoking areas, but Salon Privé has its own private lounge, its own cashiers and its own private parking.
Rosies Buffet Restaurant provides outstanding meals from Rotisseries to Asian Cuisine to Italian food or South African Traditional Meals. Ocean Basket brings you all the sea food you could wish for while the Golden Nugget Spur Steak Ranch offers you a wholesome family restaurant. Wimpy Fast Foods is great for those who are in a hurry and want a quick meal, while RAJ Indian Cusine Restaurant brings you the taste of India and the delicious and versatile Chinese's way of cooking can be experienced at Matsuya Chinese Cuisine.
But if you are looking for something a little different then Diamond Lil's action bar brings you cabaret shows, musicians, comic relief and on big sport days, games can be watched on the big screen.
Children are entertained in the crèche (ages between 2 and 13), the Suberbowling Centre or in Planet Play where arcade games, video games and interactive computer and simulation games can all be found, and for those residing here, a beautiful swimming pool is offered for those wonderful summer days.
Conferences, meeting and special events are all held here in one of the eight venues offered here. No matter if you venue needs to facilitate 20 people or 200 people, The Windmill Casino and Entertainment Centre will be able to accommodate you.
Accommodation for the casino and for the conference centre is offered by the Windmill Lodge that has 80 rooms on offer. All rooms come with a private en-suite bathroom, TV, hairdryer, telephone plus rooms are designed to enhance peace and tranquillity while enjoying a touch of luxury.
Directions
Bloemfontein Airport (19km @ 25 mins)
Head south, 1.3km.
Slight left at N8, 7.1km.
Slight left at Nelson Mandela Dr/N8, 1.2km.
Turn left at Markgraaff St/R706.
Continue to follow R706, 7km.
Physical Address
Corner Jan Pierewiet Avenue and N1 Highway,
Pellissier,
9332,
Bloemfontein,
Orange Free State,
South Africa
Tel: +27 51 410 2000
Fax: +27 51 410 2410
e-mail: windmillcasino@suninternational.com
GPS Co-ordinates: E 26° 10′ 50.0514″ | S 29° 10′ 10.6494″