Kempton Park, Gauteng
Emperors Palace Casino (formerly Caesars Palace).
The Emperors Palace Casino claims to be "The Vegas of Africa" and they truly are not incorrect with this statement. Here you will find all the glitz, the glamour and the splendour of Las Vegas right in our very own town.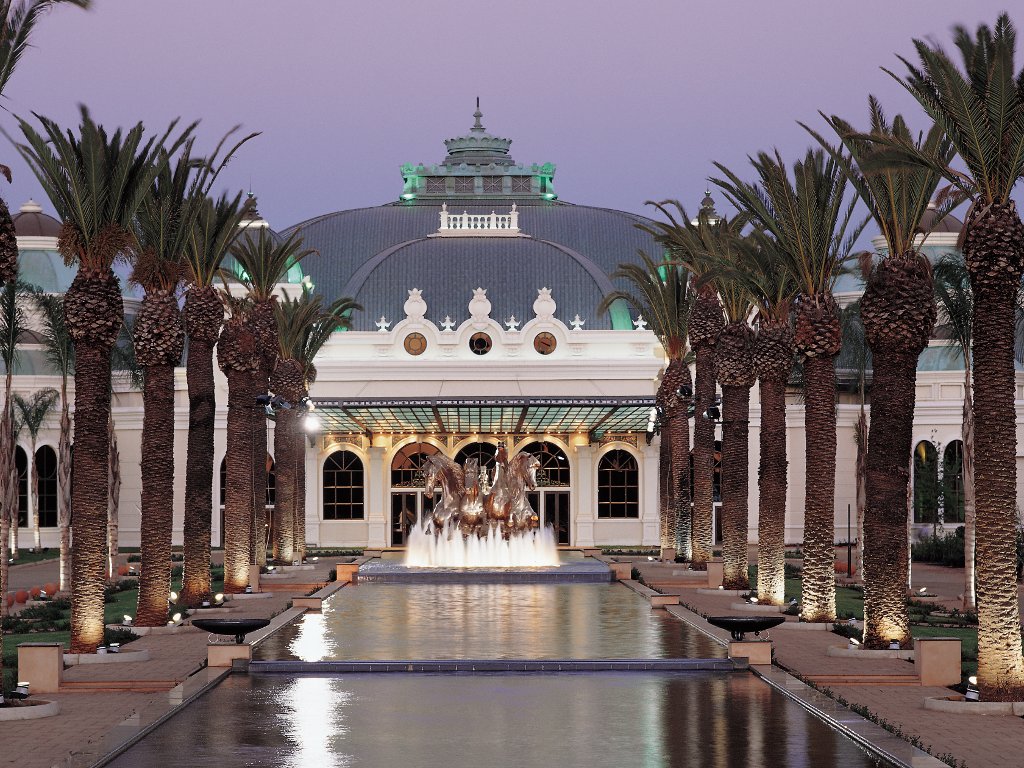 The casino here is huge and offers you more games than anywhere else plus they work entirely on smartcards which offer gamers the convenience of cashless gaming. Because of this system there are no queues, no fuss and no wasted time, there is just pure gaming pleasure.
Over 1 724 slot wait here for you, which certainly is sufficient to keep even the most avid player busy for quite some time. There are also 68 table games where Roulette, Blackjack, Poker and Midi Punto Banco are offered.
Slots start off with a minimum denomination of 1c and go up to a maximum of R100. Roulette has a minimum of R2.50, Blackjack R10, Poker R50 and Punto Banco R50.
Both smoking and non-smoking venues are offered here and each venue has its own food and beverage service that can be utilised while enjoying your favourite games.
Accommodation is provided by four hotels adjacent to the Emperors Palace. The Peermont D'oreale Grande (5 Star), the Mondior (4 Star), the Metcours Suites (3 Star) and the Metcourt Hotel (3 Star). There are 196 rooms, 150 rooms, 80 Spacious Suites and 248 rooms respectively in each hotel which combined make a whopping 674 rooms. Each room is elegantly furbished with a plasma TV and a en-suite bathroom.
SuperStar offers you leather goods and accessories and is homed in the emporium together with Mr Biltong, Sweets from Heaven and The Magic Company that offers arcade game for the younger members here, or for the young at heart.
Octavia's Sensorium Day Spa offers patrons a touch of the magnificence and opulence of Rome. Here you get to chose from a range of beauty and health treatments that effects will last a long time especially if continued with the products that are available for purchase.
Restaurants, there are truly a myriad to choose from. There are pizzerias, Asian Cusine, Portuguese/Brazilian and Angolan Cuisine, there are steakhouses such as Tribles and the Spur, there are buffet restaurant such as the Queen of the Nile. There are fast foods, Nando's, Steers, Hooters and just so many more restaurants to choose from.
And if this is not enough, then have a look at 64 live, a live entertainment lounge, or Marc Antony's which features live entertainment. The Odeo Showbar has live bands or cabaret shows, the Theatre of Marcellus hosts world class dance extravaganzas and plays and NuMetro Cinimas bring you all the latest movies.
Directions
Take the R24 towards O.T. (Johannesburg) International Airport. At the airport, the road splits – keep to the left lane and follow the R21 East Rand/Boksburg lane. Follow the road until you reach Griffiths Road off-ramp, turn left at the top of the bridge. At the T-junction, turn left into Jones Road. Entrance to EMPERORS PALACE is on your left.
Contact Details
64 Jones Road
Kempton Park,
Gauteng.
South Africa
PO Box 956,
Kempton Park,
1620
South Africa
E-mail: info@emperorspalace.com
Telephone: +27-11 928-1000
Facsimile: +27-11 928-1001
GPS Co-ordinates: S: 26° 08′ 55.10″ | E: 28° 13′ 20.17″