Your guide to Roulette history and game play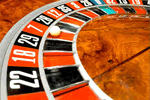 Roulette is truly one of the oldest casino games that has ever been played as this game dates back to the 17th century, This game became popular then and it popularity has certainly not waned especially with the introduction of online roulette games where players have access to this game 24/7.
There have always been two types of roulette played. European Roulette and American Roulette. European Roulette has number 0 to 36 (37 slots) and American Roulette has 00, 0 to 36 demarcated on the wheel, with colours alternating between black and red, with the same numbers corresponding on the roulette board and both games are played exactly the same.
Players are invited to place their bets on the Roulette board. Here you have a multitude of betting options available. There are straight bets, column bets, street bets, basket bets, outside bets, dozen bets, column bets, double street bets, and then there are bets that can be placed on specify numbers and specific colours. There are also bets that can be placed on even numbers, odd numbers and just so many other forms of betting options.
The game is started by the croupier, in a online live game, calling "no more bets" when the roulette wheel is spun and the ball thrown in in the opposite direction. There is no rule as to which way the roulette wheel needs to be spun.
The ball will bounce around the roulette wheel until the wheel stops spinning and the ball starts losing momentum. It will settle in a specific numbered slot which will either be red or black and the winners will now be paid out.
Playing online roulette has its definite advantages as here you not only get the American and European roulette but you also get 3D roulette games and Multi Wheel Roulette games at some of the online casinos.
This means that you have a wider variety of online roulette games to play so if you are an roulette enthusiast, playing your games online will definitely be to your advantage as here, no matter what time of day or night it is where you live, there will be a game just waiting for you to play.