King Mswati 11 Highway, Kingdom of Swaziland
If you are looking for a hotel and casino that is set in beautiful surrounding, is secluded and tranquil and is equipped for business meetings and family holidays alike, then look no further as Piggs Peak Casino and Hotel will certainly meet all your expectations.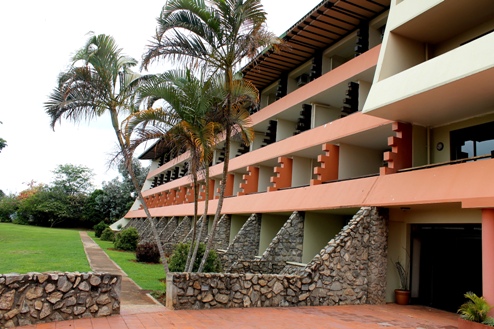 There are 103 luxury rooms here all with their own balconies and because this hotel is situated in the mountains of the kingdom of Swaziland the views are guaranteed to be spectacular. Each room has its own private bathroom, 24 hours room service, tea/coffee stations and satellite TV.
The Piggs Peak Casino offers table games such as Blackjack, Roulette, Punto Banco and Poker while the slots floor is scattered with a wide range of slot machines for your enjoyment.
There is a restaurant for all meals, a swimming pool, a sauna, lawn bowl, mini gold, tennis courts and two air conditioned squash courts with glass backs. There are 5 conference venues which all have state of the art technology plus secretarial services are available on request.
The conference centres are very well equipped and can seat anything from 15 people to a maximum of 160 people. These conference centres are specifically designed to accommodate theme evenings, motivational speakers and team building exercises. Business breakfasts, meeting, product launches, Christmas parties, farewell parties or dinner and dance events can all be hosted here in absolute luxury and ease.
This hotel is situated in a secluded pine forest which means that there are plenty of scenic walks that can be taken. Birdlife is abundant in these forest and the indigenous fauna and flora breathtaking.
After your walk a nice cool drink can be ordered in one of the three bars that are offered at this hotel.
If you need to take a break from city life, need to feel the grass under your feet and experience a bit of space, tranquillity and serenity during the day, while enjoying a night life filled with fun, excitement, adventure and bright lights then make a reservation today at Piggs Peak Hotel and Casino.
Directions
Take the N4 (to Witbank) highway. After passing the Middleburg tollgate, continue for about 50km and turn off right to Carolina. After passing Carolina, go over the railway line and turn right at the first road Continue in the direction of Oshoek. After passing the Oshoek / Ngwenya border post, continue for about 10km and turn left to Piggs Peak Drive for about 50km to Piggs Peak,continue through Piggs Peak and after you have passed the town, drive on for another 10km and you will see the Hotel entrance on the left hand side.
Contact Details
Piggs Peak Casino and Hotel
King Mswati 11 Highway,
Kingdom of Swaziland
e-mail:
res@piggspeakhotelandcasino.co.sz
gm@piggspeakhotelandcasino.co.sz
Telephone: (+268) 24313104/5
Fax: (+268) 2431 3382 / 3415
GPS Co-ordinates: S 25°54'21.95″ | E 031°17'40.65″