East London, Eastern Cape
If you are looking for a little bit of Key West charm in the middle of East London then pop on over to Hemingways Casino where you will find a casino, a fantastic hotel, conference venues, a shopping mall, a arcade full of games for the children and so much more.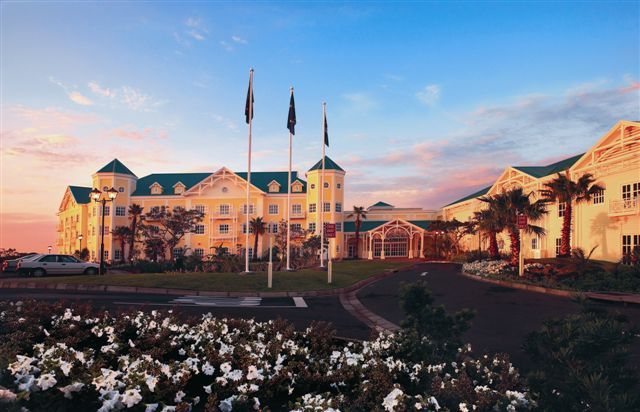 The hotel itself has been awarded 4 stars and has 108 luxurious rooms, each with its own en-suite bathroom. There are 7 suites and 1 Presidential Suit which has its own lounge looking over the Indian Ocean.
The Hemingways Casino offers you 450 slot machines that range from 3 reel slot games with one payout line right up to your more sophisticated slot games that offer 5 reels with multiple payout lines. Video poker machines are also here in abundance.
Table games such as Blackjack, American Roulette and Poker can all be found here as well. American Roulette has three different tables which accept different wager amounts. One table offers you a minimum R5 and a maximum of R100, another accepts bets between R10 and R200 and another between R25 and R500.
Blackjack also has 3 different levels. The first wagers between R25 and R1000 are accepted, another R50 and R1000 and the last table accepts between R100 and R1000. Poker has a flat rate where the minimum wager accepted is R25 and the maximum R250.
Salon Privé is an ultra-exclusive casino which caters for the VIP players who enjoy more individual attention and prefer to play higher stakes. This area offers its guests a relaxed, comfortable and luxurious area that includes a bar area and private restrooms.
Conferences and Banquets are all held at The Venues. This area can seat anything between 10 and 700 guests depending on the seating configuration requirements. There are six different venues to choose from and each venue comes with all its own conference equipment for your convenience.
There are two fantastic restaurants to ensure that all guest don't go hungry. The Key Largo Restaurant has an ala carte menu and meals are served for breakfast, lunch and supper. The second restaurant is Latitudes. This restaurant is slight less informal and serves burgers, steaks, ribs, pizzas, sandwiches, hot dogs, lighter meals, desserts and beverages.
Directions
Directions from Johannesburg or the Free State: If you are travelling from Johannesburg the best route to take is via Aliwal North, Jamestown, Queenstown. As you enter Queenstown take the turn off to the right to Whittlesea, Fort Beaufort. As you enter Fort Beaufort take the turn off to the right to Grahamstown. As you approach Grahamstown following the sign to the left to Port Alfred. On entering Port Alfred you will reach a stop street at a T-junction (East London – Port Alfred). Turn right. You will pass the marina on your left and the small boat harbour. Follow the signs marked East London.
Physical Address
Cnr Western Avenue and Two Rivers Drive
East London
5201
Telephone: (043) 707-7777
Facsimilie: (043) 707-7971
GPS Co-ordinates: 32 58′ 15.30″ S | 27 54′ 03.67″ E