Newcastle, Kwazulu-Natal
Right in the very heart of the battlefields in Kwazulu Natal, you will find the town of Newcastle and in the heart of Newcastle is the very sophisticated and modern Blackrock Casino and Garden Court Hotel. This town is situated right in the middle of your journey between Durban and Johannesburg, so if you need a break, book in here and enjoy some Newcastle hospitality.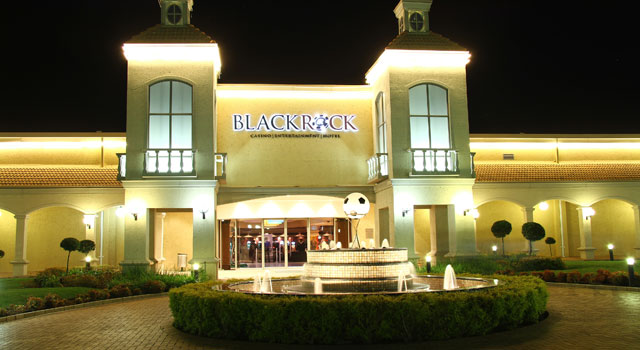 Here the Garden Court has 40 well appointed and comfortable rooms where one can request a smoking or non smoking room. All the Deluxe rooms have a view of the pool while standard room have a road view. There is a gym and sauna which is open to all patrons free of charge plus the Spa and Wellness Centre specialize in relaxation and rejuvenation treatments for those that require a bit of TLC.
The Blackrock Casino has been designed to make you feel welcome, right from the time that you walk through the casino doors. The casino is for fun, for enjoyment and for those that love being in a casino environment. Here you will find 250 state of the art slot machines which can be played from as little as 2c to as much as R10.00 There are progressive Jackpots and Mystery Jackpots that all just waiting to be won here as well.
Table games offer you games such as Roulette, Blackjack and Poker, but if you are a high-roller or a more professional player then Salon Prive is where you will find like minded players.
Meals can be taken at The Mid City Grill, which offers you warm hospitality and food that includes a full English Breakfast and suppers that ranges from the freshest seafood, authentic Indian Curries, beef and lamb dishes, salads to light meals. Each meal can be finished off with a delectable dessert, which is made freshly on a daily basis.
For business functions there is a state of the art conference centre that can effortlessly accommodate as few as 10 delegates but can just as easily facilitate 200 delegates. Themed launches, events and wedding receptions can also be catered for in this conference centre.
Directions to Blackrock Casino and Garden Court Hotel
Directions from Johannesburg International: As you leave the airport, take the R24 towards Johannesburg. After a few kilometers, the motorway will split in two. Take the branch going to Bloemfontein and Durban ( N3 ). Further on, the highway split again in two: Take the branch going to Durban ( N3 ). Carry on for +/- 60 kilometers. Exit the highway towards Balfour ( R 23 ). You will arrive in Standerton. Follow the signs saying Volksrust or Natal. In Volksrust, take the direction of Newcastle ( N 11 ).
Physical Address
100 Allen Street,
Newcastle, 4000,
Kwazulu Natal, South Africa
e-mail: blackrockcasino.info@tsogosun.com
GPS Co-ordinates: 27°46′ 50.44″S 29°56'45.59″E
Tel: +27 34 328 1777
Fax: +27 34 328 1778
Conference/Wedding bookings
Tel: +27 31 328 1792
Cell: +27 79 063 6983