Polokwane, Limpopo
Welcome to the wonderful world of the Meropa Sun Casino and Entertainment World. Here no expense has been spared, no game overlooked, no facility left out and certainly no restrictions on kids entertainment.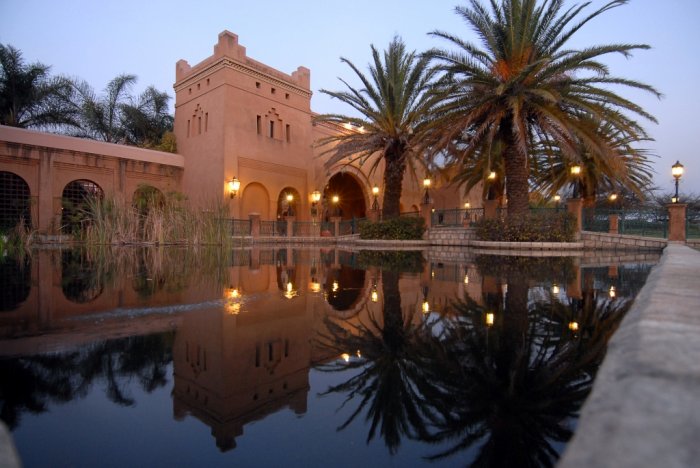 Here you will find an absolutely outstanding casino. Over 400 slot machines are just waiting for you to play and there are 16 traditional tables that offer games such as Blackjack, American Roulette and Poker. Table open at 11am and are open until the last person leaves.
Table games are split between the non smoking room and the smoking room. The non-smoking room offers you Blackjack that has a minimum bet of between R25 and R50, depending on what time of day you are playing, American Roulette starts off with a minimum of a R5 bet and Texas Hold'em Poker has a R10 minimum bet.
The smokers' room has Blackjack that has a flat minimum of R50 bet, American Roulette a minimum of R5 and poker a minimum of R25.
These games are available daily but on weekends, you will have the extra bonus of being able to take part in the Texas Hold'em tournaments.
For the more exclusive and professional player there is the Prive. This lounge is designed for the more exclusive a private games and has 37 slot machines and 4 table games, a smokers and non-smokers section, waitress services, gaming guest services, lounge area and a dedicated cash desk. So if you have a Platimum MVG card, then this is definitely where you want to play.
For the younger members, there is WildThingz. This unique entertainments centre offers educational walks where you can see bird and reptiles, butterfly specimens, big aviaries, snakes and a animal hospital where rehabilitation of animals take place plus a lovely Tea Room where sandwiches, quiches, scones and muffins can be ordered.. There is also Go-Carting, Mini Golf, Twice the Fun Creche, Sweets from Heaven, The Magic Company and the Mangwanani African Day Spa that can all be taken advantage of right here at Meropa.
The Harvest Charcoal Grill is a family a la carte restaurant, the Jembe Tavern is where you will find all the entertainment such as cabaret, comedy, karaoke and live music shows while the Ngoma Bar us where you can relax and enjoy some cocktails, beers or wine.
Directions
From: The North (10km @ Approx 15)
Travel through Polokwane town using Thabo Mbeki Drive.
Right after the CBD there will be traffic circle, carry on straight on the N1 for 4.5km.
At the third traffic lights, turn left on to Roodepoort Rd and proceed straight for at least 500m.
Meropa Casino and Entertainment World will be on your left.
From: The South (250km @ Approx 2 hours 30 mins)
Join the N1 from Pretoria
Carry on straight for approximately 200km
At Nylstroom Plaza (Tollgate) carry on straight towards Polokwane for another 58km
At the first traffic lights after Nylstroon turn right onto Roodepoort Rd and proceed straight for at least 500m.
Meropa Casino and Entertainment World will be on your left.
Physical Address
Plot 59 Sterkloop
Roodepoort Road
Polokwane
Limpopo
Telephone: +2715 290 5400
e-mail: hellomeropa@suninternational.com
GPS Co-ordinates: E 29° 25′ 22.8642″ | S 23° 56′ 37.5786″