Sibaya Casino & Entertainment Kingdom – Umhlanga, Kwazulu-Natal
Welcome to Kwazulu Natal. The home of Shaka Zulu and a place steeped in history, mystery and ambiguity. Here you will find the luxurious Sibaya Casino and Entertainment Kingdom, that is designed in modern Zulu tradition that is sophisticated and chic.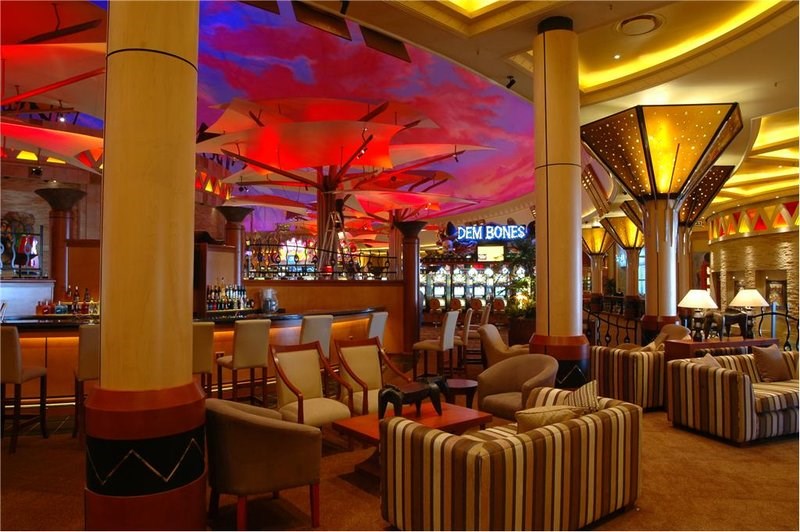 The Sibaya Casino is modern and boasts the most up to date technology. Here you will find 48 tables offering you games such as Touch Table Roulette, Blackjack and Poker. Slots come in all shapes and sizes here and there are over 1 212 skot games to choose from. Here you have Bally Jumbo Slots, Konami machines, WMS machines plus games such as Hit the Heights, JAWS Night Hunter, Alien vs. Predator, Sex and the City, Indiana Jones and the Last Crusade and Top Dollar.
The Sibaya Casino offers both smoking and non-smoking areas plus it has a casino bar that will provide you with all your refreshments. For the patrons who prefer a more exclusive casino experience where only members can gain access, there is the Salon Privé. Here nothing but Royal treatment will be given to you.
The Sibaya Lodge has a total of 118 rooms of which 66 are Standard Twin rooms, 50 Double rooms and 2 Paraplegic rooms. Each room is well appointed, beautifully decorated and comes with a en-suite bathroom, air conditioner, safe, Hair dryer, Satellite TV, Tea/Coffee stations and a writing desk.
Because no persons under the age of 18 are allowed into the casino there is a Children's Crèche for the younger ones and The Magic Company for the older ones. Here you will find the latest video, arcade and interactive computer games that will keep the young people entertained for hours on end and if they are looking for a bit of sweetness, then Sweets from Heaven will be more than happy to assist them finding some sweets to keep them happy.
But if you just want a bit of down-time, need a little TLC or stress relief, then make an appointment at the Mangwanani Private African Day Spar, where you will be pampered and looked after as you sit and look over the warm Indian Ocean.
There is certainly a selection of restaurants and bars here at Sibaya. Africa to Asia Restaurant offers you an Afro-chic dining experience while Aqua Restaurant severs exotic sea food. Then there is The Boma, Gabbiano & Co Coffee Shop, Krakatoa Show Bar, The Royal Court Grill, Sandela Restaurant and Tavern and the Virginia Bar. There are also fast food outlets in the food court that include places like Nando's, Debonairs and Steers.
Conferences, weddings and product launches can all be accommodated here as Sibaya can host as few as 16 people up to a maximum of 800 people.
Directions
From N3 approaching Durban take left turn off to N2 (North Coast). Follow the N2 until you come to the Umhlanga Rocks (M41) off-ramp. Take this off-ramp and turn right onto the M41 at the robots. After 200 meters take the Umhlanga Rocks Drive turn-off and follow sign boards.
Physical Address
1 Sibaya Drive
Umhlanga
Kwazulu-Natal
Republic of South Africa
Telephone: 031- 580 5000
Facsimile: 031-580 5001
Toll free: 0860 742292 (Sibaya)
e-mail: sibayainfo@suninternational.com
GPS Co-ordinates: E 31° 5′ 59.6004″ | S 29° 40′ 50.5878″