Caledon, Western Cape
Spectacular views of the Klein Swartberg Mountains and the rolling wheat fields of the Bath River Valley are what greet you when you look out of the windows of The Caledon Casino, Hotel and Spa – a 4 star hotel.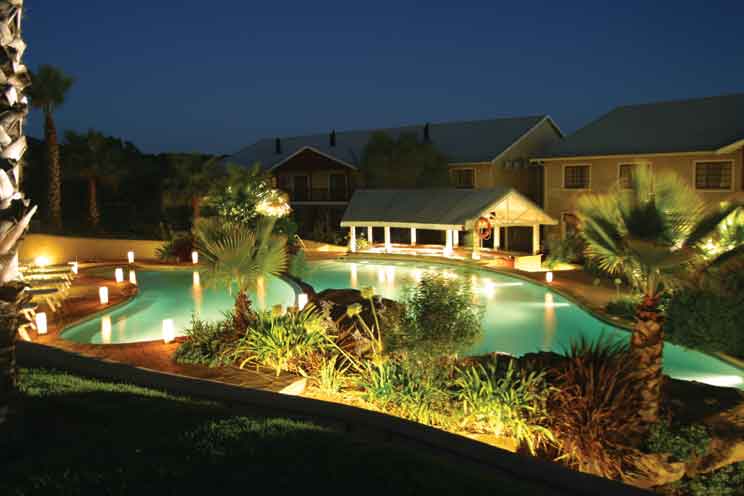 95 Rooms are offered here, and with either the mountain or valley views. Each room has its own luxury en-suite and selection of DSTV channels and is decorated in the English Cottage Style decor. Deluxe rooms, Luxury Suites, Conference centre, Wedding Venue and a Spa, which is housed in on original Victorian Bath House and offers messages, facials, pedicures, manicures etc, plus an outdoor swimming pool can all be found here.
An absolutely outstanding Casino is also part of this fantastic hotel which is open 24 hours a day, 7 days a week, so no matter what time of day or night you are looking for some casino action, it will be available to you. Here you will find Slots, Progressive Jackpots, Roulette, Blackjack, Poker and Touchbet Roulette in both the smokers and non-smokers rooms plus if you prefer a little bit more of an exclusive gaming environment, then there is the Comet Room which is specifically designed for players who enjoy higher stakes.
There are always tournaments, challenges and promotions running here at The Caledon Casino, so no matter when you visit, you are sure to benefit from their numerous promotions that are permanently updated and kept current. Great Prizes can always be won here.
Various options are available as far as dining is concerned, as here you have The Black Sheep Diner which offers an a la carte menu, The Blue Crane where Sunday lunch and buffet dinners can be enjoyed, plus the Da Vinci Cafe where more informal meals can be enjoyed that have a hearty Italian flair to it.
Leisure time can be spent in the garden room or terrace which have magnificent views, in warm summer days and evenings, but in winter when there is more of a chill in the air a lovely log fire is lit in the lounge which burns all day long for your comfort and enjoyment.
Directions
Directions to Get There – The Caledon is situated next to the N2, the main route between Cape Town and the Southern Cape Province and beyond. A leisurely drive of approximately one hour will take you from Cape Town to The Caledon. You will travel through Strand/Somerset West with the picturesque Hottentots Holland Mountains as a backdrop, over Sir Lowry's Pass and through the scenic beauty of Elgin, Grabouw and Houwhoek. When approaching from the Mossel Bay side (east) on the N2, The Caledon is situated on your left hand side as you come around the bend towards town. There is also a road from Hermanus which takes you to Caledon, while the R316 national road from Waenhuiskrans (Arniston) through Napier also connects with the N2 at the turn-off to The Caledon
Physical Address
1 Nerina Avenue
Caledon
Western Cape
South Africa
GPS Coordinates: 34°13'44.20" S | 19°25'45.33" E
Postal Address
1 Nerina Avenue
Caledon
Western Cape
South Africa
Telephone: 028-214-5100
Facsimilie: 028-214-1270