Secunda, Mpumalanga
Right in the middle of Mpumalanga, we here in South Africa have our very own Graceland Casino Hotel. Here you will be pampered, entertained, spoilt and all your needs will most certainly be catered for.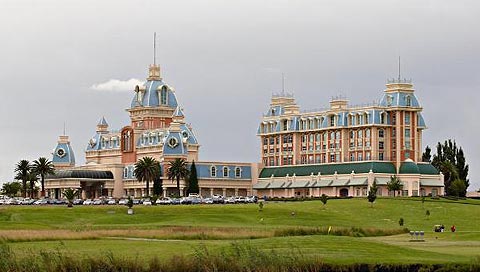 The hotel that offers accommodation is the Permont Walmont at Graceland. This 4 star hotel offers you 98 bedroom all with en-suite bathrooms. The decor is reminiscent of the Elvis era and can only be classified as art-deco that was popular in the 60's. This decor is starts in the foyer and is extended to all the bedrooms. Each room has air-conditioning, satellite TV, wireless internet access (Wi-Fi) and the luxury of 24-hour room service.
The casino at Graceland Hotelv has a host of slot machines, video poker machines and 16 tables that offer games that include Roulette, Blackjack, Poker and Texas Hold'em Poker. Here you have the Horse Shoe Smoking Casino, the Manhattan Privé Casino for the player who enjoys higher stakes and a more of an exclusive casino experience plus a non-smoking casino. This casino is open between 14h00 until at least 03h00 from a Monday to Wednesday and the balance of the week from 12h00 till at least 04.30am.
Restaurants here cater for all eventualities. There is the Blue Bayou restaurant that serves a la carte meals and the American Cafe that serves lighter meals. The Augusta Club Lounge serves your meals while you let your eye wonder over the magnificent golf course and the Palm Terrace Snack Bar and Halfway House overlook the pool terrace, serves light meals and refreshments.
Children are entertained by the Magic Company that offer a variety of electronic, video, arcade and interactive games, while the Sweets from Heaven will keep even the person with the sweetest tooth happy and the Frontier Trading Store provide you with all the gift and novelties you could wish for.
For those that need a little bit of TLC or R&R there is the Bella Dama Beauty Salon that offers relaxing and revitalizing treatments that extend from body treatments and massages to beauty treatments.
Conferences, Weddings and events can all be hosted here as they have 7 different venues where anything from 15 guests to 1000 guests can be accommodated.
Directions
From Johannesburg, take the N3 South until you reach the N17 toll road to Springs. Pass through the two tollgates and follow the N17 past Springs until it reaches a T-junction. At the T-junction, turn left towards Leandra (signboard: Leandra left, Standerton right). Travel for 3km through two 4-way stops, over a railway bridge until you reach the third 4-way stop (signboard: Kinross right, Springs left). Turn right and go through Leandra for a distance of 18km until you reach Kinross. At the first 4-way stop in Kinross, turn right towards Balfour (signboard: Balfour R547 right, Kriel R547 left). Travel straight on the R547 (road becomes R546 after 1km) for 12km. Turn left at the 4-way stop towards Secunda (signboard: eMbalenhle right, Graceland tourism sign on the left). Travel on this road for 6km and the Graceland Hotel, Casino and Country Club is on your left.
Physical Address
eMbalenhle Road,
Secunda,
Mpumalanga,
South Africa
GPS co-ordinates: S: 26° 30' 45.09" | E: 29° 09' 42.64"
Tel: +27 (0)17 620 1000
Fax: +27 (0)17 620 1567 / 5
E-mail: info@graceland.co.za