Windhoek, Namibia
Located in Namibia's capital city, the Kalahari Sands Casino and Hotel offers you the luxury of a 4 star hotel in amongst the wonderful town of Windhoek. The Kalahari Sands Casino and Hotel is specifically designed to accommodate families, business people and couples plus provide everyone with superb entertainment.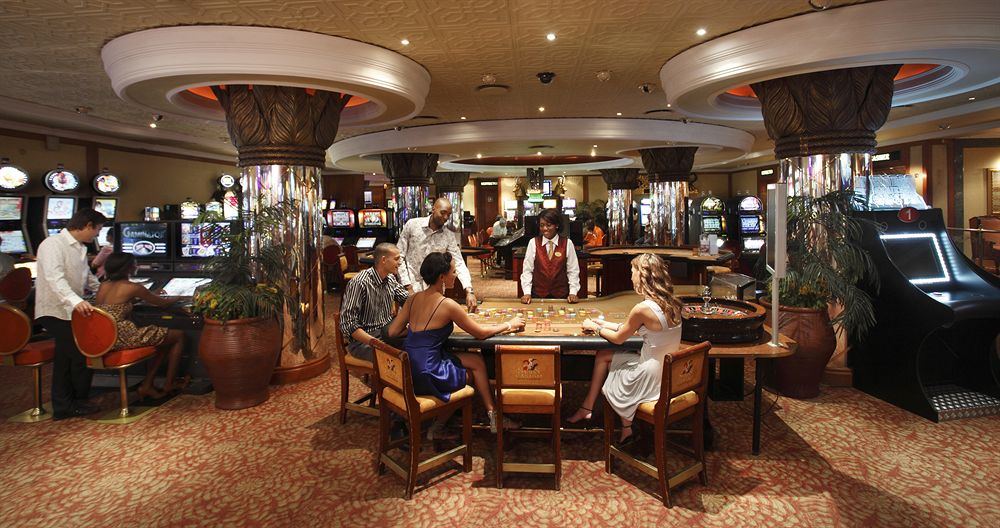 Each of the 173 rooms here have a fantastic view of Windhoek, there is an en-suite bathroom, a flat screen plasma TV plus all rooms are air-conditioner hot African days. Out of these 173 rooms there are Luxury King Rooms, Luxury Twin Rooms, Paraplegic Rooms, Superior Luxury Rooms, Luxury Suites and a Presidential Suite to choose from.
The Kalahari Sands Casino is open daily at 10h00 and closes 04h00. The decor here definitely comes right out of the Kalahari itself with Bushmen artefacts, mystical nights and golden dunes. Here you will find over 137 slot machines that all operate with smart cards. Table games offer Raise 'em Poker, Blackjack and American Roulette.
Betting minimums and maximums are as follows: RP: N$25-N$200, BJ: N$25-N$500 / N$50-N$100 / N$100-N$2000 and AR: N$5-N$100 / N$10-N$200.
The Kalahari Sands Hotel also offers a fantastic Wellness Centre that is open every day except Sunday. Here you are offered a bouquet of wellness and therapeutic services and products to help you relax and rid yourself of all stresses and strains.
Meet your friends of fellow residents in the Oasis Bar and Lounge or the Casino Bar for a couple of drinks before meals which are taken in The Dunes Restaurant which offers you informal buffet style meals for Breakfast, Lunch and Supper. The dress here is Smart Casual.
Moringa Conference Centre, International Business Centre and the "Big 6" Conference Centre are all here and all equipment here is regularly services to ensure that PA Systems, Overhead Projectors, TV, Monitors, Pointer Torches etc are always working, Secretarial Services, PRO assistance, photographers, florists, a choice of menus plus so much more are all offered here for conferences.
Wedding receptions are catered for according to requirements. Accommodation, catering, and venue are all offered here plus the bridal couple get complimentaly superior luxury suite, Sparkling wine, fruit basket, matching bathrobes and slippers, breakfast in bed and 2 vouches for a full body massage.
Directions
From O.T./Johannesburg International, take the R21 to Pretoria (Tshwane). From central Pretoria, take the N4 to Zeerust. From Zeerust you join the Lobatsi border in Botswana (Trans Kalahari Highway). From there you travel to Kang and then to the Buitepos border of Namibia. The first town you will reach is Gobabis, remaining distance to Windhoek is about 200km. Total distance is 1 500 km.
Physical Address
129 Independence Ave
Gustav Voigts Centre
Windhoek
9000
Namibia
Tel: +264 61 280 0000
e-mail: kalahari.reservations@suninternational.com
GPS Co-ordinates: E 17° 5′ 3.3174″ | S 22° 34′ 8.6838″