Frontier Casino and Frontier Inn – Bethlehem, Free State
The windmill is pumping, the horses are running, the corn is being harvested, the eagles are soaring, the beers are poured and ready to drink while the cards are being dealt to the sounds of the country and western songs that are being played at Frontier Casino, where the spirit of adventure lives on.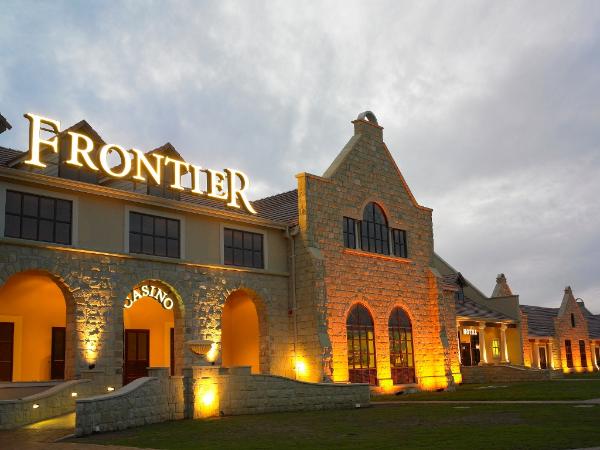 Frontier Casino is done in the true Frontier style where one could just imagine a cowboy would come walking in with his horse tied up outside and his Stetsons pulled low over his eyes. 12 tables await players here who want to play games such as American Roulette, Poker and Blackjack. This section of the casino opens at 12h00 with no particular closing time.
Slots are open 24 hours a day, 7 days a week and here you will find 130 different slot machines to play on. All slots are ultra modern and are permanently updated to keep games new, fresh and exciting.
Salon Prive is for Gold and Platinum cardholders who prefer a more of an exclusive casino experience. In both the Prive section and the normal casino sections are offered in both smoking and non-smoking.
The hotel here is the Metcourt at Frontier. There are 21 bedrooms here all with air conditioning, bath and shower, satellite TV and direct dial telephone. If you need a internet connection there is wireless internet access in the hotel lobby.
The Magic Company keeps everyone entertained with their video and arcade games. There are a total of 31 different interactive games here and is open from 13h00 to 11h00 out of season and during holidays it is open from 10h00 till 02h00.
For the younger children between 2 and 12, there is always Little Rascals who will look after and entertain the little ones from 10h00 till 23h00 from Sunday to Thursday and from 10h00 till 02h00 on Fridays and Saturdays.
Restaurants on offer here are the Coachman's Saloon where there is live entertainment 7 days a week, Golden Gate Spur that offers you a family steak house and Munchies if you are looking for fast food to eat on the go.
Directions
FROM JOHANNESBURG
Take the N3 to Durban.
Go through the Wilge Toll Gate.
At Warden, take the R714 towards Bethlehem.
At the T-Junction, turn left (follow the signage to Bethlehem).
Once in Bethlehem, continue straight until you pass theEngen Petrol Station on your right.
Continue for approx. 200m, the Frontier Inn and Casino will be on your right.
FROM BLOEMFONTEIN
Follow the N5 directly to Bethlehem.
Once in Bethlehem, continue straight with Muller street until you get the Metropolitan centre on your left and MR Price on you right.
At the traffic light intersection, turn right into Riemland Road.
Continue straight until you pass the Engen Petrol Station on your right.
Continue for approx. 200m, the Frontier Inn and Casino will be on your right.
FROM DURBAN
Take the N3 towards Johannesburg.
At Harrismith, take the N5 towards Bethlehem.
As you enter Bethlehem, you will find the Frontier Inn and Casino on your left.
Physical Address
Johan Blignaut Drive (N5),
Bethlehem,
Free State,
South Africa
Tel: +27 (0)58 307 6000
Fax: +27 (0)58 307 6001
GPS co-ordinates: S: 28° 14' 28.03" | E: 28° 19' 44.72"
e-mail: info@frontiercasino.co.za