Ormonde, Gauteng
It is literally a hop, skip and a jump out of the centre of Johannesburg where you will find two absolutely elegant and glanderous Gold Reef City hotel right next to a unique, exciting and exhilarating theme park that offers you the most heart stopping and fun rides.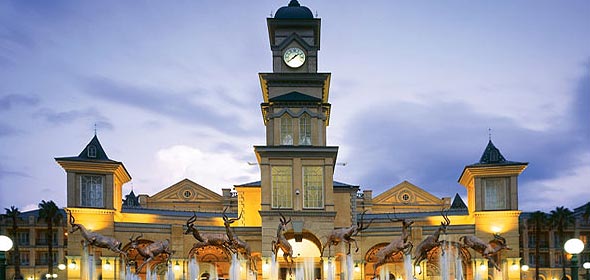 The Southern Sun Gold Reef City Hotel 4 Star hotel welcomes you and has 38 rooms available. This hotel instils a touch of class of an era where elegance and grace was a way of life, and opulence was respected, but never spoken about.
The Gold Reef City Theme Park Hotel has 75 luxurious rooms. Both business people and families are catered for here and each room has an air conditioner an en-suite bathroom and satellite TV.
The theme park is where all the action is. Here you will be trilled, scared, petrified and terrified, but will experience heart pumping rides that will make the adrenaline pump through your veins. The Anaconda, Golden Loop, Jozi Express, Miner's Revenge, Raging River Rapids, Tower of Terror, UFO, Runaway Train and Dream Boat all have a fear factor of between 6 and 10, so these rides are for the true thrill seekers.
Then there are rides like the Fun Train, Giant Wheel, Lazy Boats, Log Rides, Mermaid, Tornado, Vintage Cars, Vintage Rally and Wave Swing for the less adventurous and Balloon Ride, Carousel, Cups and Saucers, Dragon Land and Elephant Rides are just some of the rides that are more applicable to younger children.
There is also a 4D Theatre. Putt Putt, a Animal Farmyard, Amphitheatre and a host of restaurants divided between the theme park and casino. No matter if you are looking for a family restaurant, a steak house, a cocktail bar or a take aways', you will definitely find them all here.
The casino here offers you 1 600 slot machines here that are modern, fast and exciting and include all the Video Poker games you could ever wish for. Here bets start at 1c and go up to R100. Table games bring you Baccarat, Roulette and Blackjack, Raise 'em Poker and Punto Banco. Here the minimum bet accepted is R10. and the maximum R500. This casino offers gamers both a smoking and non-smoking casino.
Conferences, Weddings, Theme Park Chapel and Team Building facilities are all available here, so if you have looking for a unique venue, you will definitely find it here.
Directions
From O T /JHB International Airport. Take the R24 lane towards JHB. Take the N3 Germiston lane. Take the M2 West lane. Take the Bloemfontein lane. Keep in the Bloemfontein lane, till you get Booysens exit. Take Booysens exit and follow the signs to Gold Reef City.
Physical Address
Cnr Northern Parkway & Data Crescent, Ormonde, Johannesburg, 2159
Casino and Hotels: +27 11 248 5000
Theme Park: +27 11 248 6800
GPS Co-Ordinates: 26°14′.15" S | 28°00′.48" E