Maseru, Lesotho
The Caledon River meanders past the Maseru Sun Casino and Hotel, giving it a sense of tranquillity, a sense of splendour and a sense of equanimity. Here you will find elegance, sophistication and a modishness that would appeal to the most well travelled business man and to the bride to be, but it certainly does not neglect families who have younger children.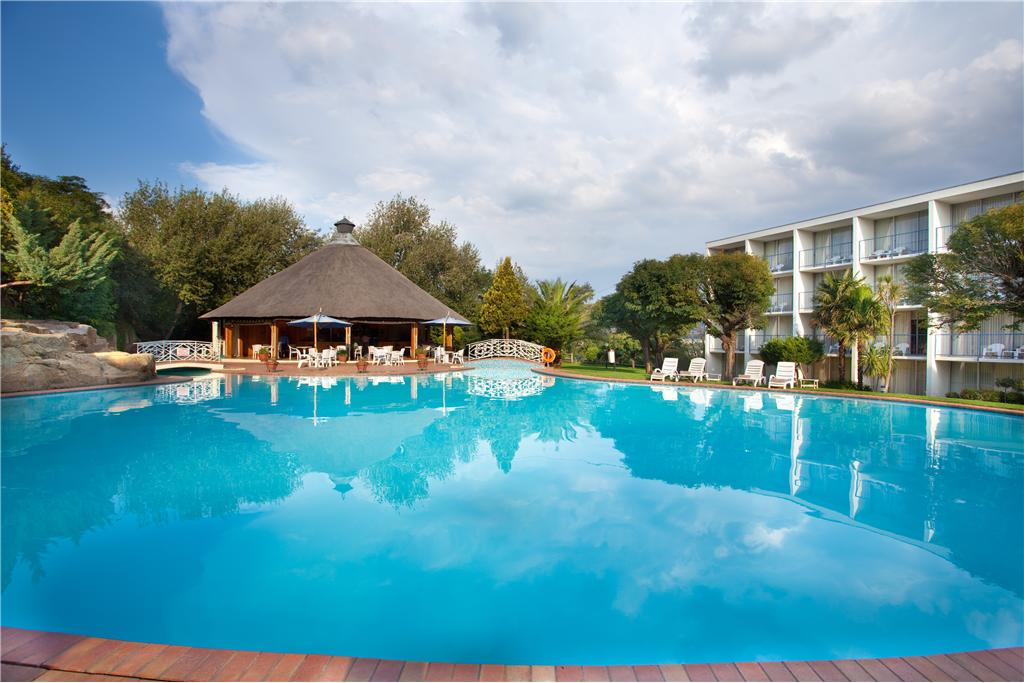 There are 105 rooms available here which include the Standard Double Room, the Paraplegic Room, the Standard Suite and the Twin Double Bed Suite. Each room is designed to offer tranquillity and harmony and colours are all earthy and range from light creams to burnt okra. Each room comes with either a kings size bed or 2 x double beds, an en-suite bathroom, air conditioners, hair dryers, satellite TV and tea/coffee making facilities. All rates include breakfast and laundry services, valet services and 18 hour room service is also available.
Conferencing and Meetings for business purposes can be made at the Maseru Sun Convention Centre where boardroom meetings can be held from a few as 10 people or as many as 400 people. Here you will find all the equipment and accessories that you will need for any conference and all equipment is well maintained to ensure that any function held here is run efficiently and effectively.
The Katse Terrace Pool is normally the hub of activity that patrons with children gravitate to as here snacks, cocktails and beverages are served all day long. There is another swimming pool that is set in a park-like garden, which is also well patronised and here you will find a giant outdoor chess set which provides entertainment to those that like this slightly serious game.
The Maluti Magic Bar is the centre of attraction for those that like lively entertainment from jazz bands, karaoke and comedy Shows and the Mohokare Restaurant offers a more tranquil setting for families and business travellers.
For those that need a bit of TLC, the Essential Health Spar at the Lesotho Sun can freely be taken advantage of. Here you will a banquet of health and relaxation services offered.
Directions
From: Bloemfontein (140km @ 1 hour 45 mins)
Take the N8 out of Bloemfontein towards the airport
Travel 130 km and turn right at Maseru bridge turn-off
Travel 11km  to Maseru Bridge border gate
Travel 5 km from border on Kingsway onto Mpilo Boulevard
Turn right onto Orpen Road (after Basotho Hat building)
From: Durban (550km @ 6 hours 20 mins)
Take the N3 towards Johannesburg and travel for 300 km
Head for Harrismith (+- 300km)
Take first left off ramp off N3 to Harrismith
Travel through a 4 way stop, a set of traffic lights and another 4 way stop (Harrismith should be on the right)
5km after passing Harrismith take left turn towards Bergville / Phutalitjaba / Golden gate
Drive straight for 45km (do not take road to Bergville / Sterkfontein dam)
Drive through Golden Gate reserve for 30km
10km after Golden Gate just before getting into Clarens turn left and head for Fouriesburg 35km
At 4 way stop turn left and head for Ficksburg / Clocolan / Ladybrand on the R26 travelling for 100km towards Ladybrand
Turn left and travel 11km to Maseru Bridge border gate on the N8. (Do Not forget to stamp at both border posts)
Travel on Kingsway onto Mpilo Boulevard and turn right toward palace of justice proceed up the hill and destination will be in front of you
From: Johannesburg (420km @ 4 hours 23 mins)
Take the M1 South to Bloemfontein
Then follow the directions from Bloemfontein
From: Pretoria (480km @ 5 hours)
Take the N1 South towards Bloemfontein
After Ultra city at Kroonstad take the Bethlehem off-ramp from the N1
Travel 48km until you get to Steynsrus
Turn right Toward Senekal travel 45 km and turn left at T-Junction towards Marquard
Cross over N5 at 4way intersection and travel for about 45 km until Marquard
At T-junction turn left towards Clocolan travel past shell ultra city on the right hand side for approximately 2 km and turn right to join the N8 towards Ladybrand
Travel 40 km to Ladybrand and proceed another 2 km to Maseru turn off
Turn left and travel 11km to Maseru Bridge border gate
Travel on Kingsway onto Mpilo Boulevard
Turn right onto Orpen Road (after Basotho Hat building)
Physical Address
12 Orpen Rd.,
Maseru,
Lesotho
Tel: +266 223 12434
E-mail: maserusun@suninternational.com
GPS Co-ordinates: E 27° 28′ 24.6576″ | S 29° 18′ 55.206″