Mabopane, North West Province
The Morula Sun Casino and Hotel offers you 73 luxury rooms that all have the most magnificent view of the the Morula's very own dam.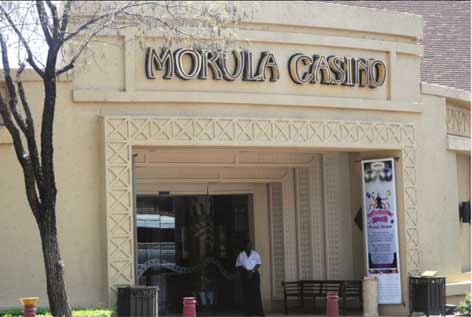 There are 52 twin rooms here, 11 Family rooms, 1 double room, 7 luxury rooms, 1 suite which has its very own sitting room, Jacuzzi and separate shower and 1 Presidential suite which has 2 bedrooms, dining room, sitting room, kitchen, Jacuzzi and verandah.
The The Morula Sun Casino offers you a true Las Vegas style casino where you will find 510 slot machines plus 12 tables that offer you games such as Raise'em Poker, Blackjack and Roulette. This casino offers both smoking casinos and non-smoking casinos plus there is also the Slots Prive which is a smoking area and has 69 of its very own slot machines.
As an extra bonus, if you are unsure how to play Blackjack or Roulette, free training is offered every Sunday between 13h00 and 14h00.
For kids there is a world all on its own that can be enjoyed. Here a crèche takes care of the younger children and offer games that include playstations, TV's, games and toys. All children between the ages of 3 and 12 are welcomed here.
The Magic Company provides entertainment for the older children and here you will find a bevy of the latest arcade games that will keep kids amused for hours on end.
Over and above all this there is the Mangwanani Morula African Day Spa that offers a true African indulgence in therapy specifically designed for relaxation. There is the Swimming pool, Bird walks and the had-court tennis courts and volleyball courts and for those that have a sweet tooth, Sweets from Heaven sells all its unique sweets right in the main entrance of the hotel.
The Morula Sun Casino and Hotel have a whole conference centre that can accommodate up to 350 people if seated in cinema style. The Leseding Arena is the biggist, the Mabopane Conference Room the second biggist as they can seat 150 people cinema style while the Boma, which offers you a true African experience and seat and cater for approximately 50 people.
The Pool area is used for any outdoor venues, Lethabong Tavern can cater approx 120 people, Lakeside Tavern and Nooitgedach Dam is used for outdoor sporting functions, the Marula Sports Bar is used for large sporting events and can accommodate 15 000 people. Plus there are Team Building Packages which include overnight accommodation and full day conference packages.
Directions
From: R28 – Travelling from Johannesburg
R28 enters Pretoria and becomes Potgieter Street (Kgosi Mampuru).
Go past the Pretoria Correctional Services on your left.
Turn left into Skinner Street (Nana Sita Street).
Turn right into DF Malan Drive (E'skia Mphahlele).
Turn Left onto Mabopane Highway (Molefe Makinta Highway).
Take the Rosslyn Exit.
Turn right [in Rosslyn] into Doreen Road [also called Railway Rd & Hebron Rd]
Go [13.1km] along this road to Lucas Mangope Highway (Molefe Makinta Highway) and turn right.
Morula is on the left 3km along Lucas Mangope (Molefe Makinta Highway).
From: N1 [N4]
Travel up the N1 towards Polokwane
After the Zambezi Drive offramp
Turn left onto the N4 – Platinum Highway
Take the 4th exit R80 towards Soshanguve
Take the 3rd exit Ruth First Avenue – turn left
At the t-junction – turn right [follow signage]
At the stop street – turn left
Next stop street – turn left
Straight down and drive into Morula Casino & Hotel's gate at the t-junction
Physical Address
Molefe Makinta (Lucas Mangope) Highway
Mabopane
0190
North West Province
South Africa
Telephone : +27 (12) 799 0000
e-mail: morula.mvg@suninternational.com
GPS Co-ordinates: E 28° 2′ 6.252″ | S 25° 31′ 20.2722″