Khoroni Casino – Thohoyandou – Limpopo
Thohoyandou is lies in the lush green landscape of the Limpopo valley. Here the Vhavendi people have them origins and in memory of time gone by, have named this town after the elephants that used to roam here freely. The name Thohoyandou means "head of the elephant" in tshiVenda.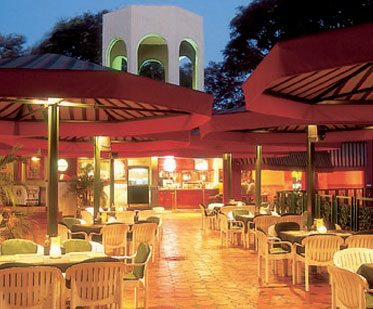 The Khoroni Casino is exciting and enthralling as there are always special promotions on offer here at both the smoking and non-smoking casino. Slots machines, there are over 140 for strategically placed for your enjoyment plus there are 7 gaming tables that off game such as Blackjack and American Roulette.
Slot games start from as little as 2c and go up to about R2 per game, whereas table games start from R2 and go up to a maximum of R100 depending on which game you are playing. Both the slots and tables casinos are open from 16h00 during the week and from 13h00 over the weekends.
The hotel that offers you accommodation here is the 3 star Peermont Metcourt Hotel. This hotel offers you contemporary comfort at rates that will suit most budgets. There are 82 rooms here, all decorated in Afro-chic style and offer you en-suite bathroom, satellite TV, air-conditioning and direct-dial telephones in all rooms. You have a choice here of either booking one of the 77 Classic rooms, The Junior Suite or one of the 4 Executive suites. Smoking and non-smoking rooms are both available.
The Bambino Creche is open between 12h00 till 00h00 on Fridays to Sundays and over public holidays between 10h00 and 00h00. Here children between the ages of 3 and 12 can be left in a supervised environment. If it is family fun that you are looking for then the Mini Golf course will offer the whole family entertainment. This course is open between 08h00 and 18h00.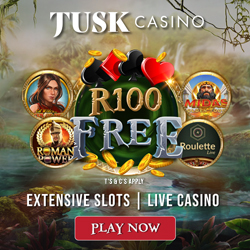 Tusk Casino is a New South African Online Casino that was set up to cater to all of those players from South Africa and other countries to play from their own homes.
It is not always easy to get out to a land-based casino, such as these listed on our site, so online casinos are the next best bet, and the good side is you don't have to get dressed up and can play for as long as you like!
There is over 3000 games to play and R100 Free for Newbies wanting to play for the first time.
The Body Talk Gym and Sauna is open 24 hours a day for those who do not wish to take a break from their daily exercise regime.
The Malingani Restaurant will serve all your meals from Breakfast to Supper. Here you will get a full English breakfast buffet to start the day off with, Lunch consists of light meals and Dinners, either a lavish buffet can be enjoyed or a meal off the ala carte menu can be ordered. The Pool Deck Takeaway Restaurant is conveniently situated near the pool and offers a variety of snacks plus refreshments.
Events are held in the Sibasa Suite, The Mphephu Suite or the boardroom, depending on your requirements. Here standard equipment such as PA Systems, Overhead Projectors, Lecterns, Screens, VHS Video Machines and Flipcharts are all included, so if you are organising an event that needs to accommodate between 15 and 130 people, contact Peermont Sales on +27 (0)11 928 1903 or +27 (0)11 557 0557 and they will certainly help you with all your requirements.
Directions
Tusk Venda Casino Hotel is situated only 70 km off the N1 between Makhado and the Punda Maria gate of the Kruger National Park. From Johannesburg follow the signboards along the N1 East.
Physical Address
Mphephu Street
Thohoyandou
Limpopo Province
South Africa
Telephone :+27 (015) 962-4600/10
E-mail: info@khoroni.co.za
GPS Co-ordinates: S 22° 58′ 11″ | E 30° 27′ 23″